Local Foodie Secrets: Where the Locals Eat in Bangkok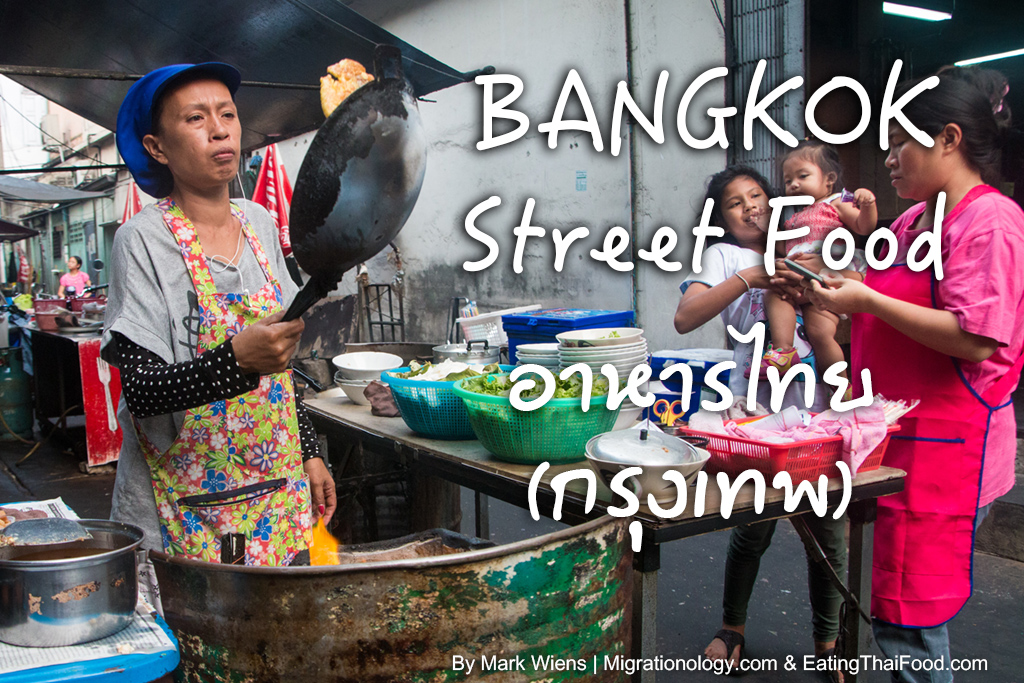 Thai Street Food
Exploring the vibrant street food culture
If you're a food lover and find yourself in Bangkok, you're in for a treat! Bangkok is renowned for its vibrant street food culture, offering a wide array of mouthwatering dishes that will tantalize your taste buds. Exploring the local food scene is a must-do experience during your visit to this bustling city.
Must-try local dishes from street food stalls
When it comes to Thai street food, there are a few staple dishes you simply can't miss:
Pad Thai: A classic stir-fried noodle dish with a perfect balance of sweet, sour, and savory flavors.

Som Tam: This refreshing green papaya salad is packed with tangy lime, spicy chili, and a medley of fresh ingredients.

Tom Yum Goong: A hot and sour shrimp soup that showcases the unique flavors of lemongrass, kaffir lime leaves, and galangal.

Mango Sticky Rice: End your street food adventure with this delightful dessert made of sweet mangoes and sticky rice drizzled with coconut milk.
Best areas for street food hunting
Ready to embark on a street food hunting adventure? Here are some of the best areas in Bangkok to satisfy your cravings:
Chinatown (Yaowarat): This bustling neighborhood is a haven for food enthusiasts, offering a wide range of street food stalls with delectable Chinese and Thai dishes.

Sukhumvit Road: Explore the vibrant street food scene along Sukhumvit Road, where you'll find everything from spicy curries to grilled seafood.

Victory Monument: Known for its popular food market, this area is a haven for locals and tourists alike looking for tasty and affordable street food.

Chatuchak Weekend Market: Aside from shopping, this famous market also offers a variety of street food options, allowing you to fuel up between browsing for unique finds.
So get ready to indulge in the flavors of Bangkok's street food culture and discover the hidden gems scattered throughout the bustling city.
Traditional Thai Restaurants
Authentic dining experiences in traditional Thai restaurants
When visiting Bangkok, experiencing the local cuisine is a must. Fortunately, there are numerous traditional Thai restaurants that offer authentic dining experiences. These restaurants not only serve delicious food but also provide a glimpse into the rich culture and traditions of Thailand.
In traditional Thai restaurants, you can expect warm hospitality, charming ambience, and attentive service. From the moment you step in, you'll be greeted with a friendly smile and taken care of throughout your dining experience. These restaurants often showcase traditional Thai decor, creating an immersive atmosphere.
Signature dishes and regional specialties
Thai cuisine is known for its bold flavors and aromatic spices. Traditional Thai restaurants excel in preparing signature dishes and regional specialties that will surely tantalize your taste buds. Whether you're a fan of fiery curries, tangy salads, or fragrant stir-fries, you'll find an array of options to satisfy your cravings.
Don't miss the opportunity to try classic dishes like Pad Thai, Tom Yum Goong, Green Curry, and Mango Sticky Rice. Each dish is crafted with authentic ingredients and traditional cooking techniques, ensuring an unforgettable dining experience.
Popular local restaurants in Bangkok
If you're wondering where to find these traditional Thai restaurants, Bangkok has a plethora of options. Some popular choices include:
Krua Apsorn: This restaurant is famous for its authentic and flavorful Thai dishes, including the renowned Crab Omelette and Pad Thai.

Supanniga Eating Room: Known for its modern take on traditional Thai cuisine, this restaurant features a menu that highlights unique flavor combinations.

Jay Fai: A legendary street food stall turned restaurant, Jay Fai is famous for its excellent seafood dishes, particularly the Crab Omelette and Drunken Noodles.
Exploring these local restaurants will allow you to immerse yourself in Thai culture and enjoy the true essence of Thai cuisine. So, don't miss the opportunity to savor the flavors of Bangkok's local foods in these traditional Thai restaurants!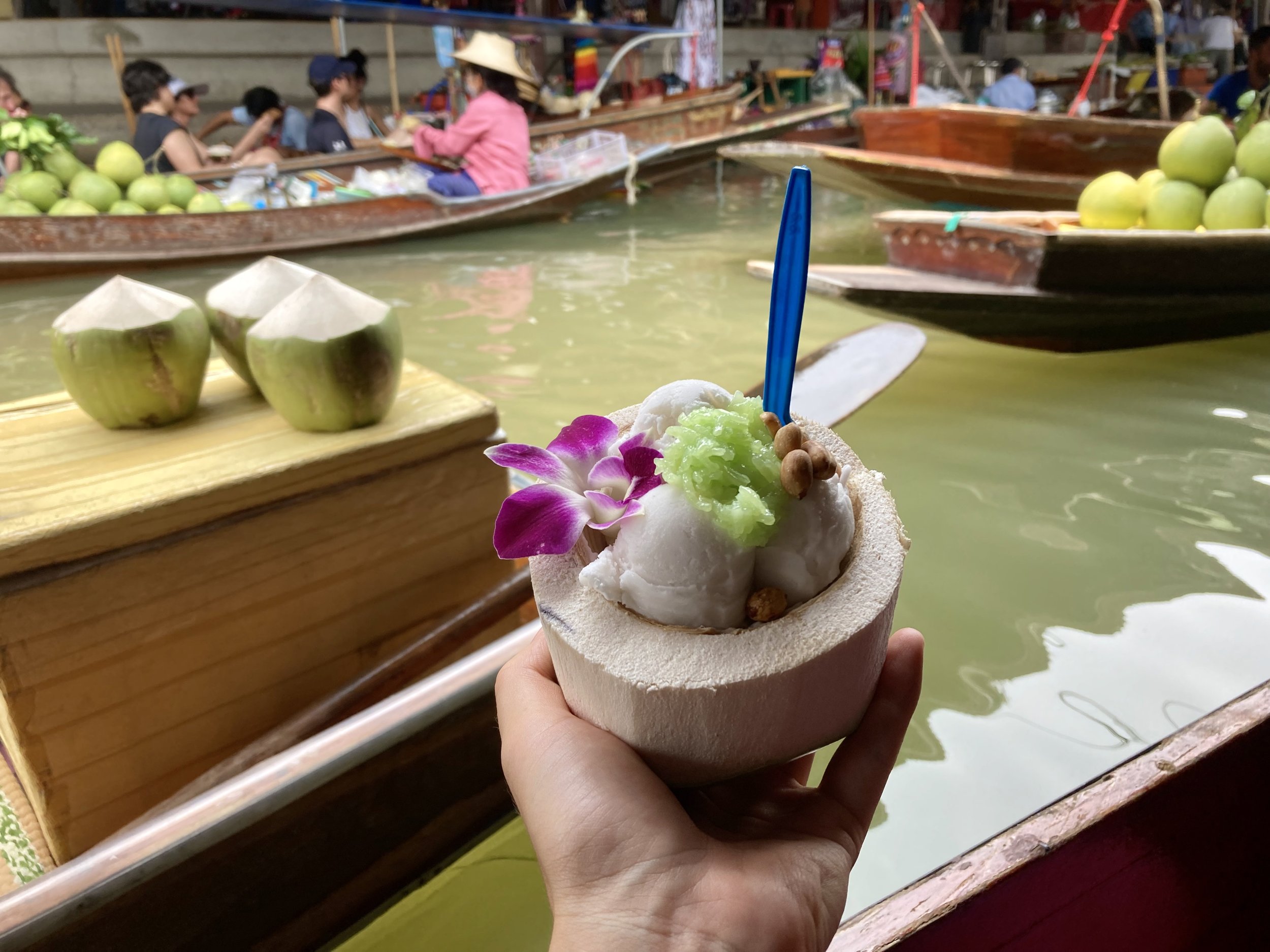 Floating Markets and Food Markets
Unique food experiences at floating markets
If you're a food lover visiting Bangkok, you can't miss the unique experience of exploring the floating markets. These markets, such as Damnoen Saduak and Amphawa, offer an array of delicious local foods. You can find vendors floating on boats, selling fresh fruits, vegetables, seafood, and even cooked dishes right from their floating kitchens. Don't forget to try the famous boat noodles and coconut ice cream, which are a must-try at the floating markets.
Variety of fresh local produce and cooked dishes
Bangkok's food markets are a paradise for food enthusiasts. From popular street food stalls to bustling night markets, there is an abundance of fresh local produce and mouth-watering cooked dishes. You can find everything from aromatic Thai curries and spicy papaya salads to crispy fried chicken and juicy grilled skewers. Don't forget to explore the stalls selling tropical fruits like mangoes, durians, and rambutans. The flavors and aromas of these markets will leave you craving for more.
Finding the best food markets in Bangkok
To embark on the ultimate food adventure in Bangkok, here are some must-visit food markets:
Chatuchak Weekend Market: This massive market not only offers a wide range of clothing and souvenirs but also hosts a dedicated section for street food. You can find all kinds of local delicacies spread across various stalls and alleys.

Chinatown (Yaowarat): Bangkok's Chinatown is a food lover's paradise, especially after sunset. Explore the narrow alleys packed with street food stalls selling everything from dim sum and noodles to sweet pastries and exotic desserts.

Rod Fai Night Market: Located near the train tracks, this market is a haven for vintage and retro collectors. In addition, it boasts a vibrant food section offering a fusion of Thai and international cuisines.
So, get ready to immerse yourself in the flavors of Bangkok by exploring these floating markets and food markets.
Hole-in-the-wall Eateries
If you are a food lover visiting Bangkok, you must explore the local food scene. Bangkok is known for its vibrant street food culture and hidden gems that serve authentic and delicious dishes. Here are some off-the-beaten-path recommendations for you to try:
Hidden gems for local food lovers
T&K Seafood – Located in Chinatown, T&K Seafood is a popular spot among locals for its fresh seafood dishes like grilled prawns, stir-fried clams, and spicy seafood soup.

Jok Prince – This small eatery specializes in jok, a rice porridge dish. Try their signature jok with minced pork or opt for variations like jok with century egg or crispy pork.
Small, local eateries with amazing dishes
Ran Guay Jab Mr. Joe – This hidden gem is known for its flavorful guay jab, a dish made with rolled rice noodles in a rich broth topped with pork and various toppings. Don't miss their tasty pork rinds!

Wattana Panich – Famous for its beef noodles, Wattana Panich has been serving up this comforting dish for over half a century. The tender beef and flavorful broth make it a must-try.
Off-the-beaten-path recommendations
Jeib Kee – Located in a quiet alley, Jeib Kee offers a unique dining experience with its all-you-can-eat grilled pork buffet. Grill your own pork slices and enjoy them with a variety of dipping sauces.

Roti-Mataba – This humble eatery specializes in roti, a flaky and crispy Indian flatbread. Try their mouthwatering beef or chicken mataba filled with flavorful spices.
No visit to Bangkok is complete without indulging in the local food. Venture off the tourist path to discover these hole-in-the-wall eateries and experience the authentic flavors of Bangkok.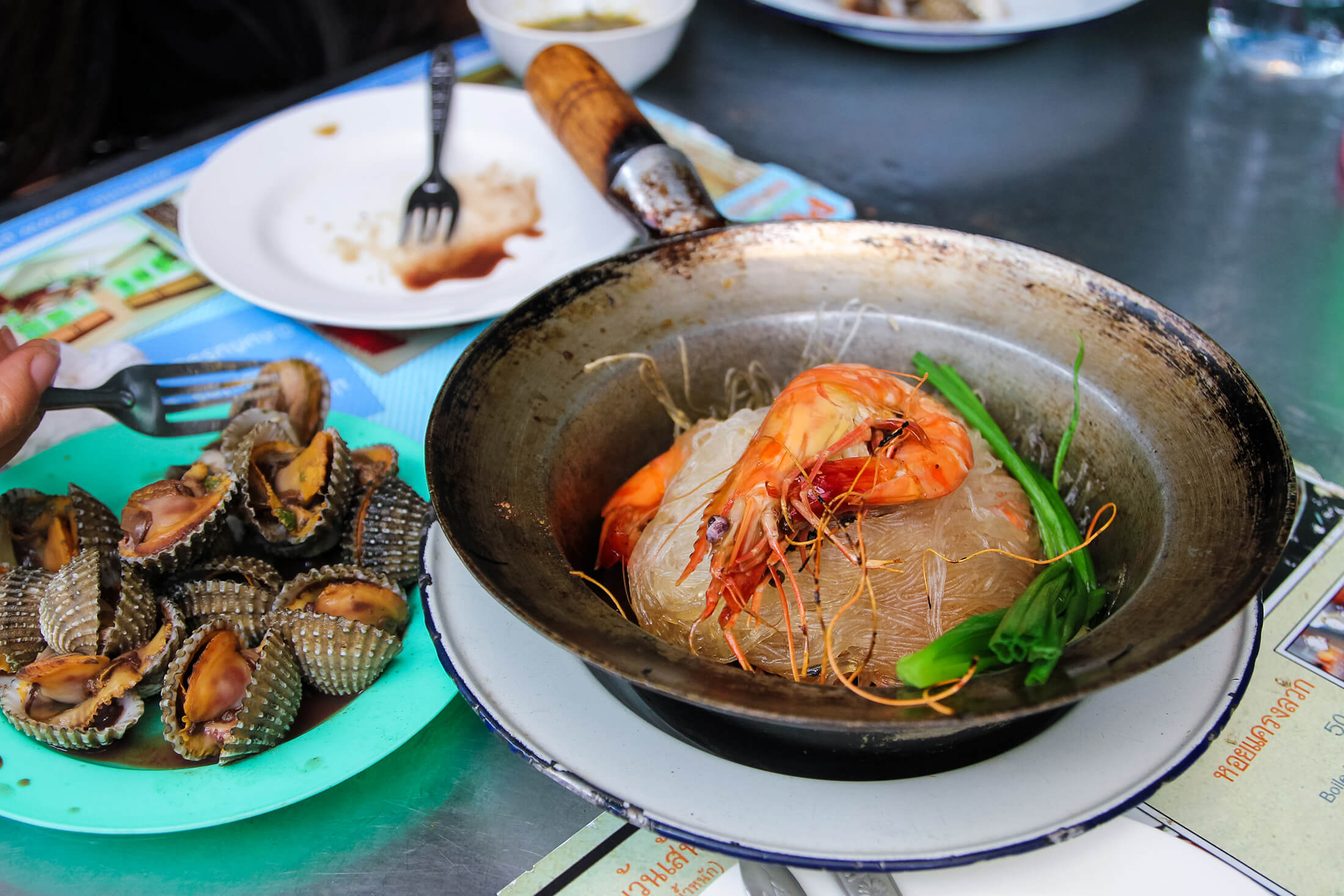 Iconic Thai desserts
Exploring the sweet side of Thai cuisine
Are you ready to embark on a journey into the delectable world of Thai desserts? These sweet treats are an integral part of Thailand's rich culinary heritage and should not be missed during your visit to Bangkok. Get ready to tantalize your taste buds with a wide array of flavors and textures that will leave you craving for more.
Famous and delicious local desserts
When it comes to Thai desserts, there are a few iconic treats that you simply cannot miss. Mango Sticky Rice, made with sweet and fragrant mangoes, sticky rice, and a generous drizzle of coconut milk, is a must-try. Another popular choice is Khanom Krok, small coconut pancakes with a crispy outer layer and a soft, gooey center. For those with a sweet tooth, Tub Tim Grob, or Thai water chestnut in coconut milk, is a refreshing and creamy dessert that will satisfy your cravings.
Where to find the best Thai sweets in Bangkok
If you are looking to sample the best Thai desserts in Bangkok, you're in luck. The bustling city is filled with street food stalls, local markets, and dessert cafes that offer an extensive selection of mouthwatering treats. Head over to the iconic Chatuchak Weekend Market, where you'll find a plethora of vendors selling everything from local delicacies to trendy desserts. For a more modern twist, visit trendy dessert cafes like After You Dessert Cafe or Mango Tango, known for their innovative and Instagram-worthy creations.
From traditional favorites to trendy new treats, Bangkok offers a diverse range of options to satisfy your sweet cravings. Don't miss the opportunity to indulge in these iconic Thai desserts and experience the vibrant flavors of Thai cuisine.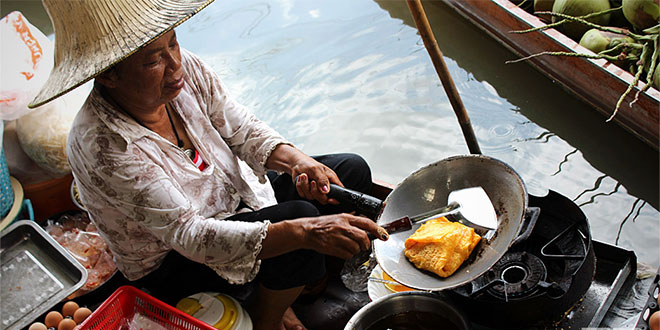 Local Food Tours and Cooking Classes
Taking a guided food tour to taste the best local dishes
If you want to experience the true flavors of Bangkok, going on a local food tour is a must. These guided tours take you to the best local eateries, street food stalls, and hidden gems that are known only to the locals. You can savor authentic dishes like pad Thai, green curry, and mango sticky rice while learning about the history and cultural significance behind each dish. The knowledgeable guides will also share interesting anecdotes and stories about the local food scene, giving you a deeper understanding of Bangkok's culinary traditions. Some popular food tours in Bangkok include Chinatown Food Walk, Thonburi Food and Canal Tour, and Bangkok Midnight Tuk Tuk Food Tour.
Learning to cook Thai food in a traditional setting
If you're a food enthusiast who loves to get hands-on in the kitchen, taking a Thai cooking class is a fantastic way to learn the secrets of authentic Thai cuisine. Bangkok offers a wide range of cooking classes where you can learn to prepare traditional dishes from expert chefs. These classes usually start with a visit to a local market to pick fresh ingredients, followed by a hands-on cooking session in a traditional setting. You'll learn how to make dishes like tom yum soup, green curry, and mango sticky rice, and have the opportunity to taste your creations at the end of the class. Some popular cooking schools in Bangkok include Blue Elephant Cooking School, Sompong Thai Cooking School, and Silom Thai Cooking School.
Whether you choose to go on a food tour or take a cooking class, exploring Bangkok's local food scene is an unforgettable experience that will immerse you in the rich flavors and vibrant culinary traditions of Thailand's capital city. So don't miss out on the opportunity to taste and learn about the delicious local cuisine of Bangkok!
Recommendations from Locals
Insider tips and recommendations for local food
If you're visiting Bangkok and want to experience the authentic flavors of local cuisine, look no further. Here are some insider tips and recommendations from locals themselves:
Explore Street Food: Bangkok's vibrant street food scene is a must-try. Visit popular areas like Chinatown, Sukhumvit Soi 38, and Pratunam Market for an array of delicious street food options. Be adventurous and try local favorites like pad Thai, som tam (spicy papaya salad), and moo ping (grilled pork skewers).

Visit Local Markets: Talat Rot Fai (Train Night Market), Or Tor Kor Market, and Khlong Toei Market are great places to experience the local food culture. You can indulge in a variety of traditional dishes, fresh fruits, and seafood. Don't miss out on the famous boat noodles or the flavorful curries.
Local-approved eateries and dishes not to miss
Here are some of the top eateries and dishes recommended by locals for an authentic Bangkok food experience:
Jek Pui Curry Crab: Located in Chinatown, this restaurant is renowned for its delicious curry crab. The rich and flavorful curry sauce perfectly complements the succulent crab meat.

Khao Gaeng Jake Puey: This local eatery offers a wide selection of traditional Thai curries and stir-fried dishes. Choose from an array of mouthwatering choices and savor the flavors of true Thai cuisine.

Raan Jay Fai: This legendary street food stall has gained worldwide fame for its tasty and Michelin-starred crab omelet. Expect long queues, but the wait is definitely worth it.
So, whether you're a foodie or just looking to immerse yourself in the local culture, make sure to try these local-approved eateries and dishes for an unforgettable culinary experience in Bangkok.