The Best Bakery Finds We Spotted at Costco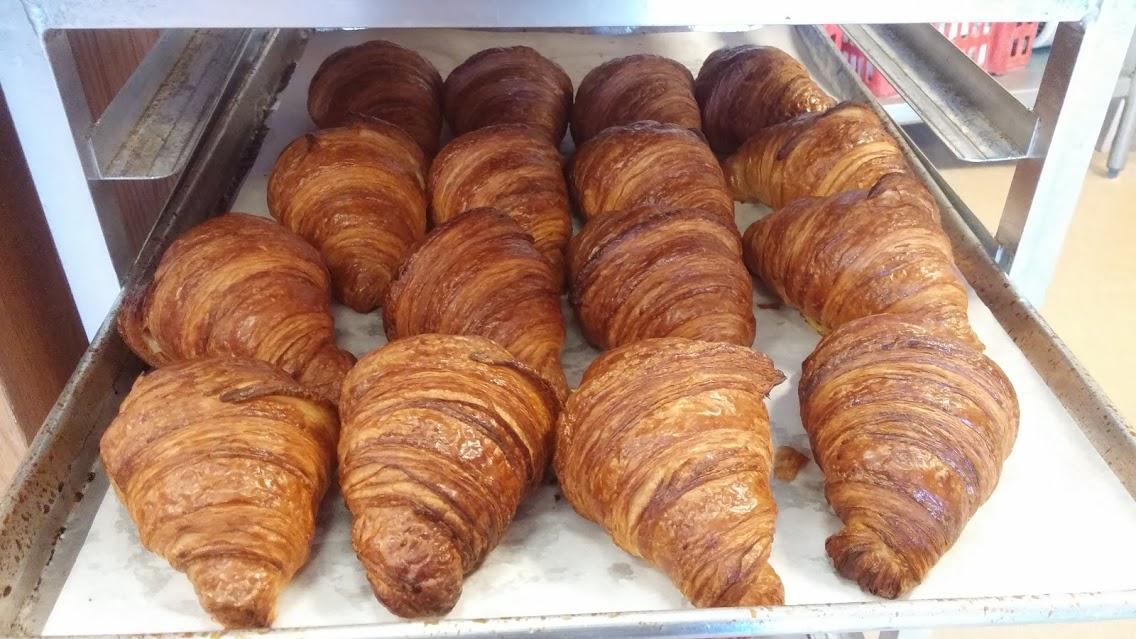 Croissants and Pastries
1. Buttery Croissants Freshly Baked to Perfection
Calling all croissant lovers! If you're craving a flaky and buttery treat, Costco has just what you need. Their freshly baked croissants are a delight to the senses. The aroma alone will have you salivating before you even take your first bite.
These croissants are made with high-quality ingredients and baked to perfection. The buttery layers are light and fluffy, creating a heavenly texture that is simply irresistible. Spread some jam or butter on top, or have them plain; either way, you won't be disappointed.
2. Decadent Chocolate Danishes That Melt in Your Mouth
If you have a sweet tooth, you're in for a treat! Costco offers delicious chocolate danishes that are an absolute indulgence. These pastries are filled with rich and velvety chocolate that oozes out as soon as you take a bite. The buttery, flaky crust adds the perfect contrast to the sweet filling.
These chocolate danishes are perfect for breakfast, brunch, or even as a dessert. Serve them warm for an extra gooey and mouth-watering experience. Whether you enjoy them with a cup of coffee or on their own, they are sure to satisfy your cravings.
3. Flakey and Delicious Almond Croissants
If you're looking for something a little more exotic, try the almond croissants. These pastries have a delicate almond filling that adds a nutty and slightly sweet flavor to the already delicious croissant. The combination of the flaky layers and the almond filling creates a taste experience like no other.
The almond croissants at Costco are generously sized, making them perfect for sharing or indulging in all by yourself. Pair them with a hot cup of tea or coffee for a delightful gourmet experience. Trust us, once you try these almond croissants, you won't be able to resist coming back for more.
You don't need to travel to a fancy bakery to find delicious and high-quality pastries. Costco offers a wide variety of croissants and pastries that are perfect for any occasion. Whether you're hosting a brunch, treating yourself, or simply satisfying your cravings, these bakery finds will not disappoint. So head to your nearest Costco and indulge in these delectable treats.
Artisan Breads
1. Rustic Ciabatta Loaves for the Perfect Sandwich
Looking to elevate your sandwich game? Look no further than Costco's Rustic Ciabatta Loaves. These light and airy Italian-style breads are perfect for creating the ultimate sandwich experience. Slice it up and load it with your favorite fillings, from turkey and avocado to ham and Swiss. The crusty exterior and soft interior of these ciabatta loaves will add a delicious texture to every bite.
2. Sourdough Bread with the Perfect Tangy Flavor Profile
If you're a fan of tangy flavors, Costco's Sourdough Bread is a must-try. Made with a sourdough starter, this bread offers a unique taste that pairs perfectly with everything from soups and stews to cheese and charcuterie. The tangy notes of the sourdough will add depth and complexity to your meals, making it a versatile choice for any occasion.
3. Seeded Multigrain Bread for a Healthy and Nutritional Boost
For those looking for a healthier option, Costco's Seeded Multigrain Bread is a fantastic find. Packed with nutritious ingredients like whole grains, seeds, and fibers, this bread not only tastes great but also provides a nutritional boost to your diet. The combination of different grains and seeds creates a deliciously nutty flavor, making it a perfect choice for toast, sandwiches, or simply enjoying on its own.
With Costco's range of artisan breads, you can enjoy bakery-quality products without the hefty price tag. Whether you're looking for the perfect sandwich loaf, a tangy sourdough, or a wholesome multigrain option, Costco has you covered. Next time you visit the bakery section at Costco, be sure to keep an eye out for these delicious bakery finds. Your taste buds will thank you!
Note: Product availability may vary by location. Please check with your local Costco for specific products.
Cakes and Desserts
1. Heavenly Tiramisu Cake Layers Filled with Espresso Goodness
If you're a fan of coffee and cake, then Costco has a treat for you! Their heavenly tiramisu cake is an absolute delight. Made with layers of light sponge cake soaked in coffee and filled with rich and creamy mascarpone cheese, this dessert is a coffee lover's dream. The combination of flavors and textures is simply divine.
2. Creamy and Indulgent Cheesecakes for Every Sweet Tooth
Cheesecake lovers, rejoice! Costco offers a variety of creamy and indulgent cheesecakes that are sure to satisfy your sweet tooth. From classic New York-style cheesecake to flavorful options like strawberry swirl or chocolate mousse, there's something for everyone. Each slice is rich, velvety, and packed with decadent flavor.
3. Delectable Fruit Tarts Bursting with Juicy Flavors
For those who prefer a lighter and fruitier option, Costco's fruit tarts are a must-try. These delectable treats are bursting with juicy flavors and topped with an assortment of fresh fruits like strawberries, kiwis, and blueberries. The buttery tart shell provides the perfect complement to the tangy and sweet fruit filling. They make for a delightful dessert or a lovely addition to any brunch or tea party.
Costco is known for offering high-quality products at affordable prices, and their bakery section is no exception. Whether you're hosting a special occasion or simply craving something sweet, Costco has a wide selection of bakery finds that are sure to impress. Don't forget to check out their seasonal offerings as well, as they often introduce new and unique desserts to their lineup.
Special Treats
Calling all bakery lovers! If you're on the lookout for some delightful baked goods, look no further than Costco. They have a fantastic selection of treats that will satisfy your sweet tooth and leave you wanting more. Here are some of the best bakery finds we spotted at Costco:
1. Irresistible Baklava with Layers of Honey and Nuts
If you're a fan of Mediterranean desserts, you can't miss the baklava at Costco. This delicious treat is made with layers of flaky phyllo pastry filled with a generous amount of honey, nuts, and spices. The combination of the crispy pastry and sticky-sweet filling will have your taste buds dancing with joy.
2. Soft and Chewy Macarons in a Variety of Flavors
Costco offers a wide assortment of macarons that are perfect for any macaron lover. These delicate French cookies come in various flavors like raspberry, chocolate, pistachio, and more. With their smooth and chewy texture, these macarons will transport you straight to Paris with every bite.
3. Unique Confections like Cannoli and Éclairs
For those craving something a little different, Costco has you covered with their unique confections. You can find traditional Italian cannoli filled with creamy ricotta and chocolate chips, or indulge in a classic French éclair filled with luscious vanilla custard and topped with rich chocolate ganache. These treats are the perfect combination of flavors and textures that will satisfy even the most discerning dessert connoisseur.
No matter what your taste buds are craving, Costco's bakery section has something to offer. From irresistible baklava to soft and chewy macarons, and unique confections like cannoli and éclairs, there's a treat for everyone. So next time you're at Costco, be sure to swing by the bakery section and treat yourself to something sweet.
Conclusion
If you're a bakery lover or just appreciate a good sweet treat, Costco is the place to go. With their wide selection and unbeatable prices, you can satisfy your cravings without breaking the bank. From freshly baked bread to decadent desserts, there is something for everyone at Costco.
Satisfy Your Bakery Cravings with Costco's Best Finds
Costco is known for its high-quality products, and their bakery section is no exception. Here are some of the best bakery finds you can get at Costco:
Artisan bread: Costco offers a variety of artisan bread options, from crusty French baguettes to hearty whole grain loaves. These breads are freshly baked and have that authentic bakery taste.

Pastries: Costco's bakery is famous for its delicious pastries. You can find everything from flaky croissants to mouthwatering danishes. Perfect for breakfast or a midday snack.

Cakes and desserts: If you're looking for a showstopper dessert, Costco has you covered. They offer a range of cakes and desserts, including rich chocolate cakes, creamy cheesecakes, and delectable pies. Great for birthdays, parties, or any special occasion.

Muffins and cookies: Costco's bakery is also known for its oversized muffins and cookies. These treats are freshly baked and packed with flavor. A great option for a quick breakfast or afternoon pick-me-up.
Frequently Asked Questions about Costco's Bakery Selection
Can I order custom cakes at Costco? Yes, Costco offers custom cakes for special occasions. You can choose the flavor, filling, and design of your cake. Just make sure to place your order in advance.

Are Costco bakery items made in-house? Yes, most of the bakery items at Costco are baked in-house. This ensures freshness and quality.

Do I need a membership to purchase from Costco's bakery? Yes, you need a Costco membership to shop at Costco, including the bakery section. However, some locations may allow non-members to purchase bakery items without a membership.
In conclusion, Costco's bakery offers a wide variety of delicious treats that are perfect for any occasion. Whether you're looking for bread, pastries, cakes, or cookies, Costco has it all. So satisfy your bakery cravings and head to your nearest Costco to discover their best finds.